Is LEED Still Viable?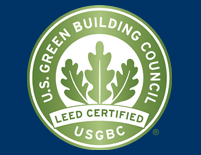 Oregon is in the top five states with the lowest carbon footprint per capita, and has more LEED® certified buildings per capita than any other state. 1 With that, the short answers is yes, but there is definitely more to it that just that. Are you looking to be environmentally friendly, sustainable, energy efficient, "green "?
Since its inception in 1998, LEED has developed into the worldwide well-known "green " certification it is today. As of April 2013 there are more than 52,400 LEED projects worldwide, with 44,270 of them in the United States. 2
The latest edition of LEED, LEED v4, has expanded its building types to cover data centers, warehouses, distribution centers, and hotels. Additionally LEED v4 revised its credit weighting, added new credit categories for integrated design, material life cycle, increased focus on measurement and verification, and streamlined the online platform making the LEED documentation process more efficient. 3 Even with these updates LEED still remains a costly certification for a building owner trying to get the most out of his or her dollar.
"The USGBC's fees for registration range from $750 to $3,750, and certification runs from $1,500 to $7,500, depending on the size of the building. But the big costs come in the form of energy modeling, commissioning, and other requirements of certification; these can run into the tens of thousands of dollars, according to architects and developers. " 4
Additionally, one of LEED's biggest flaws still exists, the lack of 3rd party site verification. LEED is a tool for Green building designers. Even after a building is certified there is no guarantee that it will actually follow through on the "Green" measures designed.
So you may be asking yourself, what other option do I have? One of the quickest growing alternatives to LEED is Green Globes. For a small commercial building owner Green Globes can be an easier, cheaper, quicker certification process as they can do everything requires to certify their building online, without needed an accredited professional to do it for them.
Depending on the region you are constructing in and building type some other alternatives to certify or assist you in your "Green " building design. Some of these include CalGreen, EnergyStar, BREEAM, the GBC tool, and the Minnesota Design Guidelines.
What if I really like the idea of LEED but not the cost? One of the easiest options here is a "LEED Equivalent " building. This would be where you hold all parties involved in the design / construction process to the requirements of a LEED certified building without actually submitting any paperwork or registering. While you will not receive the LEED plaque to display you could easily use a small portion of the money you saved to place educational kiosks or monitors in you building to educate visitors of your "green " building.
Another alternative would be a building designed to incorporate ASHRAE 189.1. "Standard 189.1 provides a "total building sustainability package " for those who strive to design, build and operate green buildings. From site location to energy use to recycling, this standard sets the foundation for green buildings by addressing site sustainability, water use efficiency, energy efficiency, indoor environmental quality, and the building's impact on the atmosphere, materials and resources. Standard 189.1 serves as a compliance option in the 2012 International Green Construction Code ™ (IgCC) published by the International Code Council. The IgCC regulates construction of new and remodeled commercial buildings. " 5
It has been estimated that when just the minimum requirements of Standard 189.1 have been met a building can have up to a 27% energy saving when compared to Standard 90.1-2007.
With that the final decision comes down to what is best for you and your customer.
1. [Text of footnote 1]↩ http://www.forbes.com/2007/10/16/environment-energy-vermont-biz-beltway-cx_bw_mm_1017greenstates_slide_3.html
2. [Text of footnote 2]↩ http://www.usgbc.org/articles/infographic-leed-world
3. [Text of footnote 3]↩ http://www.usgbc.org/about/leed/current-version
4. [Text of footnote 4]↩http://grist.org/cities/leed1/
5. [Text of footnote 5]↩https://www.ashrae.org/resources–publications/bookstore/standard-189-1
Author: Josh Reiser
Mr. Reiser, in the industry for over 10 years, has an extensive background with design for mechanical systems.  He is responsible for various mechanical design aspects of projects including HVAC, piping, plumbing, and exhaust systems for a wide range of project types that include educational, commercial, industrial, and municipal.