A Toast from the President of R&W to the Staff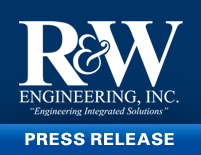 Imagine with me, what the conversations must have been like back in late 1977 or early 1978. How did Bonnie react when she learned about Harry's idea to start his own engineering firm? Or was it her idea? What would it take to convince that electrical engineer that Harry knew from CH2MHill/Dillon Engineering to leave the security of an established firm and start out on their own, together? Would clients move with them to their new firm? What would be the first project? How long could they keep this young start-up consulting firm in business? I am sure there were hundreds of other questions that kept both Harry and Mark awake for many long nights.
36 years ago on May 1, 1978 R&W Engineering opened in a small building on the SE corner of the Sylvan interchange with two engineers and one drafter. 5 moves, more than 200 employees, and lots more sleepless nights for others, here we are today. The first project did come in; Medford Tree Nursery Irrigation Controls with KEI. Since then we have established relationships with 1380 clients. Some of those clients have come back to R&W for over 1000 projects. It's hard to drive anywhere in Oregon and not see some of our handiwork, whether it's a cell tower cleverly concealed in a "monofir" or the stainless steel enclosures on a neighborhood corner that even my wife will ask if that is one of our sewage pump stations. (Ask her about the special tour we got on our first trip to Hawaii.)
Of those more than 200 employees, the original 2 are still here. We have 5 of us who have been with R&W more than 25 years (2 of those with more than 30 years). 6 of us are in the 20-25 year range, 9 of us are between 10 and 20 years. These numbers tell us that we are living our company vision: "dedicated to Building Lasting Relationships ".
R&W was founded on the principle that people are our greatest asset. We work hard each day to keep that culture at R&W, valuing each of you and the contributions you make to bring success to our company. We also recognize the contributions that each spouse and family member makes to R&W. From spouses understanding when extra, long hours are necessary; to the kids who play quietly in the "Kids Kube", so mom or dad can continue working on those sick or snow days.
All of you have achieved our best year ever with our largest billing amount by almost $1 million over previous record years. While 2014 has been one of great success, we also look to 2015 with eager anticipation. So, in conclusion, thank you all for what you do to make R&W the great company it has been and is today. Here's to the past, the present, and the future.
Thank you and Merry Christmas everyone.