CIDA – Celebrating the 100th Project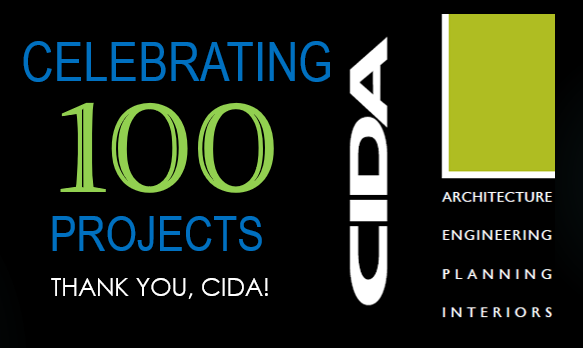 Author: Janel Brubaker

Inspiration is often an undervalued component to office life. Some workplaces focus on other aspects of running an office, like time management and safety. Understandably so; these are important to the success and efficiency of a workplace. Unfortunately, it also means that some aspects of what drives a work environment can be overlooked. When companies emphasize the importance of lasting professional relationships, the results can be astounding.
A company that R&W has worked with that meets this standard is CIDA, Inc. Their community driven approach to architecture and engineering has created a company that R&W has enjoyed working alongside for over 25 years. The positive interactions between our respective team members has built an environment of trust and respect. In fact, R&W has worked with CIDA on 100 different projects. This is an exciting prospect that reflects R&W's dedication to building lasting relationships and speaks to the type of relationship we have with CIDA.
One of our team members who has worked on at least 20 projects with CIDA said that his favorite part of working with them is the positive professional relationship between our two firms: "There's more of an understanding of people, in terms of deadlines and people's personal time. Everyone still has a life outside of the office." When asked about the importance of R&W's professional relationship with CIDA, he said, "It's very important. Without them, I would not have been referred on other projects." He continued, "Projects are not always perfect. They have their own oddities. CIDA understands that and the team works together to resolve problems in a timely manner." Understanding the perspectives of employees, clients, and contractors is exactly the kind of professionalism that inspires loyalty and fosters strong connections between not only a company and their clients, but also a company and others they may work with.
In 2017, CIDA was recognized as one of the top 100 best companies to work for in Oregon. Companies that are good to work for are often the companies that are good to work with. Another member of our team said of his favorite part of working with CIDA, "It's the people. R&W's vision is Building Lasting Relationships, and with the team at CIDA this has been easy. No matter who is assigned to projects at either company, we work well together and have mutual respect that makes projects fun and successful." He continued, "…CIDA is a group of people that you know enjoy their work…and respect those they work with. Knowing my input is valued makes CIDA a great partner." Fostering positive professional relationships is a key inspirational tool.
Reaching the benchmark of 100 projects with CIDA is exciting for us at R&W. It communicates just how special our relationship is. To have the kind of professional affiliation with a company wherein our team members enjoy interacting with their team members, even when stress is high and deadlines inch closer, is a tremendous thing. It's precisely what has established the trust and respect that exists between our respective companies, and that trust and respect are the foundation of the rapport we've built over the last 25 years.
Attitude is another way that companies can inspire. It effects the daily life of the office as well as the continued relationships between a company and its clients. When asked about the 100 projects R&W has worked on with CIDA, a team member said, "This number indicates two firms that are more focused on getting good projects and doing the best quality work without allowing ego or territory to ruin the final product." He continued, "Not only does R&W work for CIDA, but when appropriate, CIDA works for R&W. This sharing of the lead role to make a team that best serves the product and the client is telling and paints a picture of our relationship."
The values, cultures, and attitudes of a company stem from its leadership. Owners and managers who emphasize the importance of professional relationships will likely create a working atmosphere that also emphasizes those relationships. Another member of R&W's team said of her experience with CIDA, "There's a comradery between our companies that has created great relationships and positive interactions. CIDA is the client you enjoy calling, and that makes jobs flow smoothly. It opens channels of efficient communication. There's a greater feeling of being part of a team and cooperating toward the same goal." She also said that, in her experience, these values are applied to every interaction she's had with CIDA, regardless of whom she interacts with. This kind of inspiration builds professional success and establishes environments the clients and contractors enjoy being a part of.
Inspiration comes in many forms and through endless mediums. CIDA is an inspiring company for many reasons, some of which have been discussed here. What stands out is the positivity of their interactions with R&W. From being friendly and communicative to understanding the oddities of each job, CIDA has impacted R&W in positive ways. To see our firm reach 100 projects with CIDA is inspiring and serves to remind us that cultivating positive professional relationships is a worthwhile endeavor.
Here's to 100 jobs with CIDA and many more to come!