The Enginerd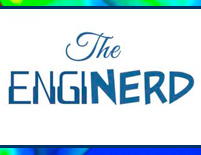 The Enginerd. He is the unfortunate result of unofficially adventurous tedium's of engineering combined with the additionally tiresome cross-referencing of restrictions placed by countless numbers of officials and experts tying hands at every turn to collate into a vortex of nerdism equating to high level thought processes combined with exceedingly dull, monotonous, diminutive, inter-personal skills and outrageous conceptualizations. His mission is to solve the physical problems of societal infrastructure to not only maintain, but improve the quality of life for both the private and public sectors. It's just that simple…or is it?
We join one such Enginerd tasked with reconfiguring a new private sector system to comply with the public sector rules, regulations and guidelines for sustainable green power generation in a local area. This unprecedented project yields the ability to utilize energy from the local infrastructure instead of just discarding the energy it stores as a byproduct through conventional means in order to reduce excesses that would create problems for the end users. And though some scorn the thought of attempting such ventures citing the laws of physics as not allowing the project to be fruitful, those involved understand the entire system and why such a project could revolutionize sustainable power with low environmental impact for many areas of the modern world.
Though the concept is relatively simplistic, the application of such a venture is anything but simple. Sophisticated and specialized equipment is necessary to perform this power generation. The Enginerd must review the necessary processing equipment to be used then determine the additional components required so that it is not only functional but tolerable to local, state and national jurisdictions. Add to the complications, the virtually non-existent available real-estate in the only location permissible for installation of the project, and the Enginerd has been placed face to face against an unwavering bureaucracy of foes.
A technical solution to compact and minimize impact is not enough for this project. The Enginerd must argue the interpretation of laws, codes and regulations with the same entities wanting the project to succeed because of aesthetics! How will this ever result in a successful project? Fear not, a solution is at hand.
Upon hours of reflection and turmoil in devising a course of action to appease the lords and ladies of public office presiding over final acceptance adherent to their criteria, an acceptable solution emerges from the shadows of the mind. Eureka! With the majority of the equipment located underground, the remaining equipment can be hidden from direct site through the use of expensively extravagant art.
The plan is set in motion. All parties involved agree satisfaction has been achieved. The project is a success! "We have done it!" the Enginerd exclaims. But within seconds of this outcry of relief, an email appears in the Enginerd's inbox with the subject line: Electrical Inspector Comments. Upon examination of the email the Enginerd drops his head in reflectance of defeat, then slowly raises it all the way back as he inhales deeply, then screams, "Curse you NEC!!!"