Casual for a Cause Fridays Hits a Milestone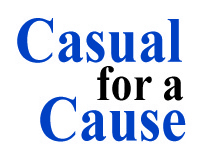 Eleven years ago, R&W Engineering began a tradition that would impact many lives for years to come. Casual Friday for a Cause not only allotted for the employees to dress in their favorite comfortable pair of jeans on fabulous Friday, but also asked that each employee donate five dollars to the selected charity of the quarter. The employees agreed together this could be an opportunity to give back and make a difference. Each quarter R&W employees vote on a charity and all the money raised during that quarter is donated to that charity. R&W employees fund local charities as well as nationwide organizations. Over the last 11 years, R&W employees have donated over $30,000 to different charities and organizations. Some of the different charities R&W has been a part of are the American Heart Association, Royal Family Kids camp, Oregon Food Bank, Mercy Corps, Dove Lewis Animal Hospital, Sports Outreach and many more. Casual Friday for a Cause is a wonderful opportunity to involve ourselves with our community beyond our office walls.
Some of our most memorable contributions have gone to Cassie's Angels and the J.P. Carlisle Foundation. Cassie's Angels is a foundation organized to financially and emotionally support a seven year old girl battling a rare cancer call neuroblastoma. Our donations went to the research as well as medical expenses for this family. The J.P. Carlisle Foundation was a charity set up for a US Marine who suffered a traumatic brain clot while on assignment. The funds raised at R&W helped to cover medical expenses for J.P. and his family.
Other organizations are the Oregon World War II Memorial and Home Plate Youth Services. The WWII memorial pays a deep respect and appreciation to the thousands of Oregonians who gave their life during this war and our support in this charity has helped with maintenance of the memorial. Home Plate Youth Services charity assists children up to the age of 24 who are homeless or in unstable living conditions. This organization provides meals, resources, access to education, and so much more to thousands of children in need.
As a donating employee, I must say the dollar amount is quite impressive. It is hard to imagine just $5 a week was able to contribute to all of that. However, beyond the numbers of money donated are the smiling faces and happy hearts of those whose lives were impacted by a simple five dollar bill. I am happy to say that I am a part of an organization who values the lives of others, and those in need within our community.