Our Quarantine Projects
As we pass into autumn, it's clear just how much our lives have changed since the global pandemic hit the United States. Amusement parks closed, cancelling many summer plans. State and national parks restricted access, making hiking, BBQs, and camping difficult. And while we have begun to settle into something resembling a new normal, we see how different things are than they were a year ago.
But it's not all gloomy. R&W employees have kept up to date on a long list of quarantine projects. We have been busy with building and remodel projects, home schooling projects for those with kids, and other activities for personal enjoyment. Being quarantined and away from the office has meant adjusting to difficulties. But it also means more creativity in the ways we entertain ourselves.
Our at-home quarantine projects span a wide array of types and levels of complication. One member of the R&W family has finished a long list of projects, two of which included constructing a house for the well on his property and clearing away the underbrush near the fence around his property. Of all the projects, he listed the well house as his favorite: "[It] was built using metal [for the] siding and roof. I have done some metal roofing but never siding, so this was a fun challenge to figure out all of the connections, overhangs, and trim to make it weather-tight and look nice."
The other large project he completed was clearing away the brush from around his property to make walking trails: "Clearing brush for the trails is a constant, never ending battle. I have let it go for too long and now it gives me a productive way to get exercise. It's also a great stress reliever. There are some areas around our fence line that I have not been able to get into for more than 20 years." Completing components of a project 20 years in the making! That is next-level productivity! This project began, he said, because his wife mentioned she wanted to see the other side of the property from their back deck. And now she can. You can see the before and after pictures below.
What is interesting about these projects is how diverse they are in terms of what they accomplish. Some projects, like the two just mentioned, are more on the productive side, using quarantine to clean up, remodel, build, and finish up tasks needing to be completed. Other projects have been more on the fun side, taking time to invest in new and old hobbies, and spending time with family. Our next featured projects fall into this category.
Another staff member bought a metal detector and spends time with his daughter every week looking for loose change and other treasures. When asked what prompted this project, he said: "My daughter was at her grandparent's house for the day and brought home treasures from their backyard…I saw her excitement…and it was a no brainer. Even though she only brought home trash, to her it was buried treasure." 2 to 3 times each week, they take the metal detector to neighborhood parks, schools, and to the beach to search the sand for buried items that have been left behind and forgotten.
He said they mostly find loose change, primarily pennies. But they have also found match box cars, nails, pop cans, keys, and a couple of bullets. They even found a ring and a charm bracelet, which his daughter loves to wear and are her favorite found items. And he is most excited by the silver nickel and 1954 half-dollar they found. They have been saving all the loose change to show people. "The best part" he said, "is hanging with the kid, for sure!" They usually go out for a couple of hours at a time. Not only is there great bonding between the two of them, but it gets them out of doors in a way that is safe and allows exercise.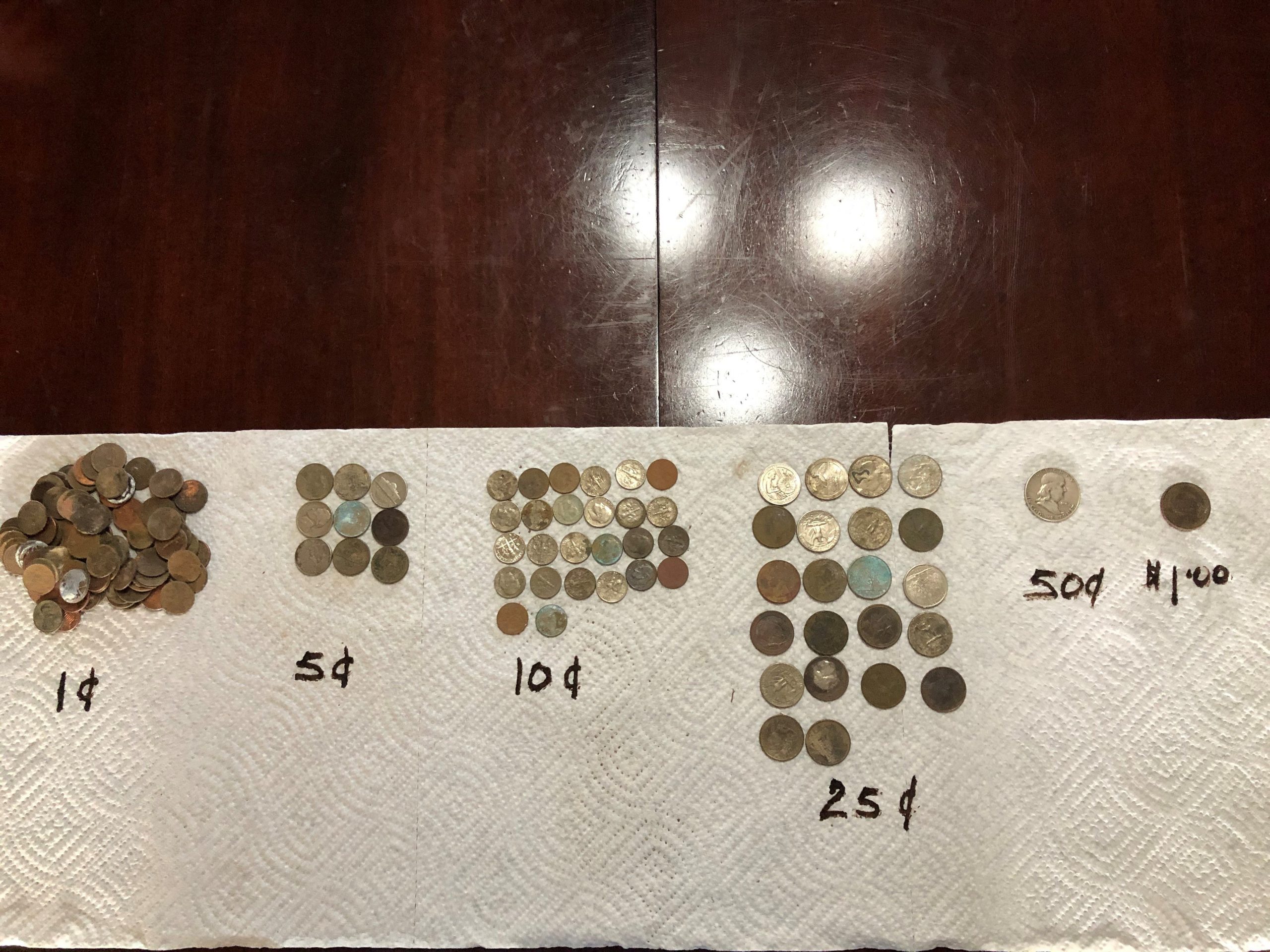 Some of our quarantine projects have been simple, but helpful. One staff member built a deck vision screen to maintain privacy as the lot next to their house was sold and was being divided. He said they built it "…using reclaimed fence wood and metal from auto ramps and other materials. Along with some welding and ingenuity, we constructed our 16ft long and 6ft high vision screen." Maintaining privacy during a time when so many people are staying home is becoming more essential.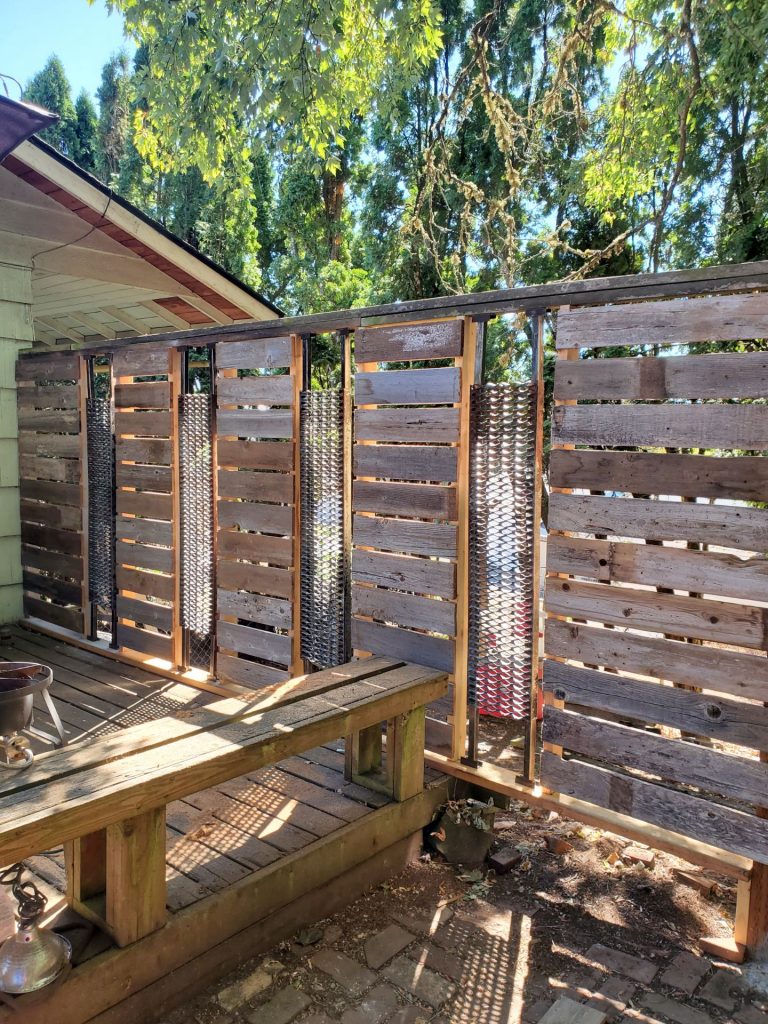 Another staff member has been painting. She began in junior high. When asked how she came to be interested in painting, she said, "Watercolors. I did a beautiful watercolor of a vase of roses in 7th grade and have been hooked ever since." She primarily works in acrylics since it's what she has. She said she tried oils over this last weekend and learned it's not her medium.
She has also taken up relearning to speak French. It was something she started in high school. She said she's been working since May to expand her knowledge. When asked what her long term plans are for painting and French, she said, "I think with painting I would love to make gifts for people…As for French, it's just to pass the time." She did recall once when she was 22 and working at Applebees, a large group of primarily French-speaking customers came into the restaurant. She was the only one working who spoke any French. She was able to help them order. "They were very polite and left a great tip."
And lastly, another member has been remodeling sections of his home with his wife. They've completed quarantine projects, including the extension of their kitchen island to make room for breakfast/prep area, adding a leveled paving stone walkway from the front of the yard, painting their bedroom, and refurbishing a small floor cabinet to hold towels and other toiletries. When asked which project was the hardest, he said, "The island extension by far. It was a lot of standalone kitchen parts…that we put together to make the full extension. [It meant] making sure they all aligned properly and matched…cutting pieces to better lengths, sanding, painting, matching style…" This kitchen island project was also his favorite, he said, because it turned out really well and they use it every day.
These are only a few of our at-home projects. I'm sure there will be even more as we go into 2021. And while this year has not turned out the way we thought it would, it's great to see some of the things we still accomplished. Because this is evidence of some of what makes R&W such a fantastic company. We are full of problem solvers, devoted workers, creative thinkers, and strong leaders. As a company and as individuals, we go above and beyond. Even during a global pandemic when stakes are high and so much is uncertain, we still find ways to be productive, both on the job and at home.